THE INTERVIEW: Actor & Photographer Bryan Dechart
Sunday, September 09, 2012
Rising star,
Bryan Dechart
is an actor/photographer who's career has him living a bi-coastal life between Los Angeles, CA and New York, NY. Graduating from New York University with a BFA in Acting, Bryan loves what he does for a career and who can blame him? I first took note of Bryan when he joined the cast of ABC Family's
Jane By Design
as the prodigy fashion designer,
Eli Chandler
. Of course I developed a "celeb" crush on him (I definitely have a type)
, and wanted to know more about this talented and attractive actor. With the power of social media and Bryan's willingness to interact with his fans, he obliged me with the chance to interview him!
(CAN WE SAY ECSTATIC)? I got the low-down on Bryan's role as Eli, his personal style, and his pursuit of acting and photography. Enjoy!

Hi Bryan, thanks so much for this fabulous opportunity to interview you! I'd like to know what made you go out for the role of Eli? Since he's a fashion designer, do you have a secret, undercover love of fashion? When I first auditioned for Eli, I was really attracted to his attitude about his work. Eli loves what he does, it's what makes him happy, and we're similar in that. If you love what you do, you'll never work a day in your life. To Eli, work and play are the same thing. I've grown to love fashion while working on Jane By Design, but have always been attracted to design (graphic, web, interior) and photography, which I think are in the same family.
Erica & Eli



How would you describe your personal
style?
Eli would probably have a thing or two to say

about my wardrobe....but I'm getting a bit more
adventurous after working on JBD - I'm a big
fan of jackets, someday I'll have a closet full of
them. Still looking for a hat that I can pull off
wearing though....
What was it like playing a designer on the show?
Incredible! Anyone who watches the show knows we got to spend a lot of time in amazing clothes. The stylists on the show were wonderful. My grandmother is a seamstress, my mother is a costume designer and my little sister makes her own dresses so maybe it's in my blood? I know my way around a sewing machine...
Bryan as Eli on the set of Jane By Design



If your personal style differs from Eli's did you like the looks that Eli wore on Jane by Design? And would you ever wear them in real life? I steal from Eli's style absolutely. He's got this NY underground-preppy thing going on. I kept Eli's leather wrist cuff tht he wears in every scene. Don't tell anyone.







Was it hard joining the cast of JBD mid-season? It seems like you became very close with everyone!
I think ABCFamily sets really do have a family mentality - the cast and crew were very kind to adopt me mid-season and made me feel at home. I spent most of my time with Erica, Andie, India, Rowly and Ser'D on the Donovan Decker set for over two months. We definitely had a lot of fun working together.
Bryan Dechart (Far Right) with Nick Roux, Mariah Buzolini, & Erica Dasher
When did you first realize that you wanted to become an actor?
I auditioned for my first play in 7th grade by invitation of the girl I had had a crush on. She needed a boy to read the scene with her. I was a very shy kid, theater opened me up. Over time, acting just sort of made sense. Follow the fun.
Who are some of your favorite (inspirations) actors & actresses right now?
Daniel Day Lewis is a genius and I love George Clooney, Tom Hanks and Robin Williams. Harrison Ford as Han Solo will always be #1.

Tell us some of your favorite movies?
I'm a total nerd, Star Wars and Lord of The Rings. The Count Of Monte Cristo. I'll spare you the full list.
In light of the recent news on the cancellation of JBD, how great a role have your fans played in keeping the cast's spirits up? Jane By Design fans are fantastic! During shooting and as the episodes aired, we received so much love - The cast and crew loved working on JBD and we were hoping for Season 2 as much as our fans. I love hearing from everyone, I read every email and tweet I get - I'm happy to write back, too. I'm so lucky to have such an incredible support team so early in my career.


Where would you like to go with your acting career? Do you prefer television, movies, stage, or all three? I learned to love acting while in the theater and I'll act on stage again someday. Right now, living in Hollywood, I'm working mostly in Film and TV. Indie films have a special place in my heart.
On twitter and Facebook you've posted about new projects that you have in the works. Can you tell us a little bit more about them?
I have a few films in the festival circuit so I've been traveling a lot recently to attend screenings. "FISH: a boy in a man's prison" is a project I've been attached to for over two years now - we've filmed a 21 minute short in Jackson Prison where the real story took place in the 1970's - and I am gearing up to start shooting the feature. I'm heading to the Hamptons next week to film for "The Awakened", in which I play a mafia-family lawyer. I'll keep everyone updated on my website/Facebook/twitter.
Bryan with the director TJ Parsell and some of the cast and crew of "FISH" at the premiere at Guild Hall in East Hampton.
As a blogger who also has an interest in photography, I love the fact that you're also a photographer! So cool! When did you decide to get into photography? Do you look at photography as more of a hobby or a second profession?
Photography has been a hobby of mine since high school. I got a camera to document family vacations and it evolved from there - I love portraits and collaborating with my actor and artist friends. Maybe we should do a post JBD photo-shoot with the cast...
How much time do you spend traveling back and forth between LA and New York? If you had to choose LA or New York, which city would you prefer to live in?
I studied acting at NYU and lived in New York City for about 7 years. I'm flying back to LA now but will return to the East Coast in a week for "The Awakened" - I think this will be my fifth trip back to NYC since moving to LA just over a year ago. I love being Bi-coastal, it's the best of both worlds.

I noticed that you also do a lot of volunteering! I love to volunteer and give back when I can, as my schedule is pretty hectic managing my full-time job and a side blogging career. I can't imagine how crazy that must be for you to fit in? How do you do it? Do you know of any great charities that you would like to recommend to my readers?
I'm very fortunate to live the life I do and there's a lot of people out there who could use some help. Volunteering is important because it reminds us of our humanity. We're all people, we all deserve to be taken care of, regardless of our circumstances. My Own 2 Hands (@MO2Hands on twitter) is an incredible volunteer organization run by a friend of mine from NYU. They organize events like painting schools, working at food banks and women shelters. Every month they set up a new opportunity to get involved, not just in LA, but NY, Houston, Chicago and the Bay Area; definitely check them out.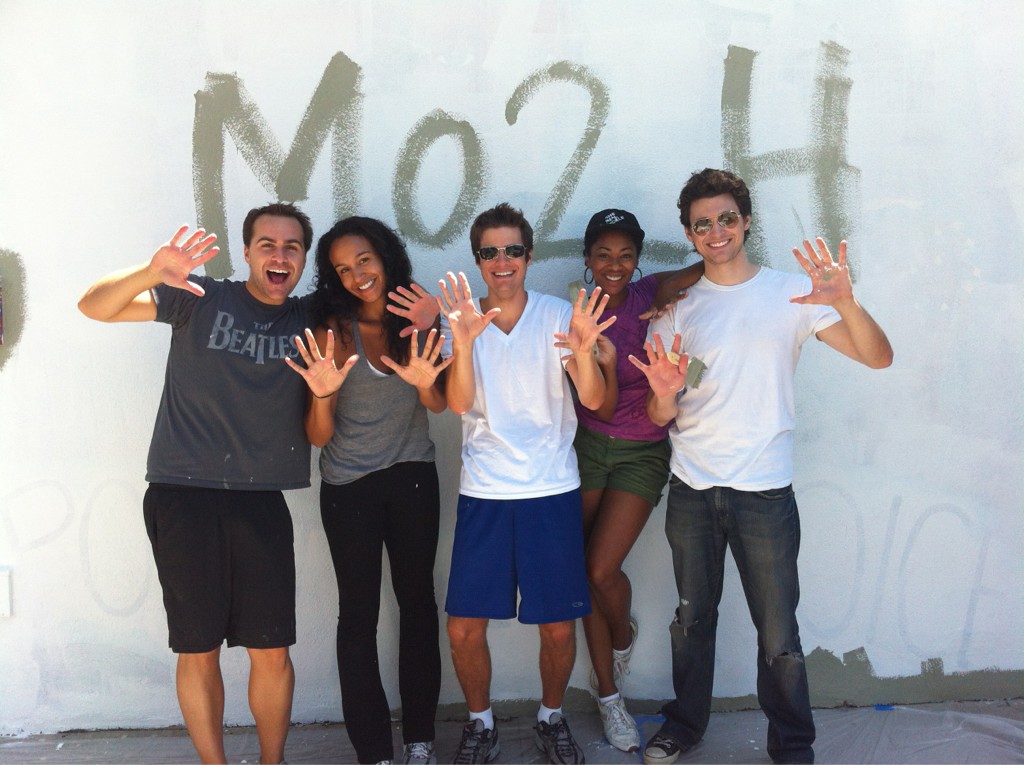 What advice would you give for someone who is thinking about studying to become an actor or who wants to break into the biz?
Studying: Enjoy it, follow the fun, listen to your teachers and embrace it all. To thine own self be true. Acting isn't something you can get into with a closed mind. Breaking into the business: Haha, I'm still figuring that one out, I guess. Persistence and optimism seem to be key, though.
And of course the number one question that everyone wants to know is…Is there a special someone in your life?
Hahaha, there are lots of special people in my life :-) My family being the top of that list.

Where can my readers find out more about you and your upcoming works? I love hearing from fans, I read everything you guys send me. My email address is on my website:
www.BryanDechart.com, @BryanDechart, www.facebook.com/dechartfanpage

Thanks Shalanda, all the best,
Bryan
*Photos from Bryan Dechart's Instagram & Website