Sunday, January 22, 2012
The Shirt That Can't Be Figured Out
This is a very interesting shirt, and I'm not sure if I'm wearing it right or not! My friend Leticia bought this shirt, and then her and her daughter were confused on how it was supposed to be worn, so she gifted it to me. I have to say I struggled too! All I know is that my arms were through the right part (the Dolman Sleeves) but this ultra low cow-neck in the front leads down to a cinched waist...Well obviously I wasn't going to wear this shirt without something underneath, so I paired it with a blue tank...Then I wanted to have fun with blue and added the floppy had and stuck with dark-wash jeans. These flats were a spur of the moment purchase while I was home in Pittsburgh. I was shopping with my friend Tara and my feet started to hurt in the pair of shoes I was in, so I ran into Payless and bought this cheap pair of flats...lol I love their color!
ENSEMBLE
Felt Floppy Hat:
Burlington
Necklace:
Belonged to my Late Grandmother
Shirt:
Gift from a friend
Tank:
Charlotte Russe
Jeans:
Old Navy
Flats
: Payless
OUTFIT DETAILS
Luv, Tags:
Burlington
,
Charlotte Russe
,
Old Navy
,
Payless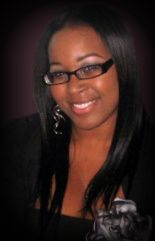 Written by Shasie
Shasie is an engineer by day, fashionista by night. No matter if she's in the office, or at a fashion event, her goal is to live her life in style, and help you do it too! Follow her on Twitter|Facebook|Instagram|Pinterest|YouTube,

Get Updates
Subscribe to our e-mail newsletter to receive updates.